Queens & More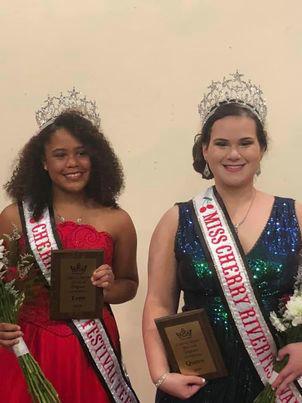 Miss Cherry River Festival Teen Queen - Jasmine Jantuah
Miss Cherry River Festival Queen - Stacie Bess
Schedule Changes/Additions

Any changes or additions/deletions after the schedule has been printed will show up here.
Mechanical rides provided by R & D Amusements, Rides open Monday thru Thursday 5 until 10 p.m.; Friday 5 until 11 p.m. and Saturday 1 until 11 p.m. Wrist bands ($20) sold are good from 1 to 5 p.m. on Saturday only.
If you are interested in being a vendor for Festival Week, please contact Cory Chambers at 304-651-8444 for details.
CHANGES & ADDITIONS:
Two new sponsors have been added: Camden Family Health and Amber & Jackie Lewis.
Monday, August 2, 8:00 P.M., Matt Kiser Band will replace the Amos Steel Co. Band at the Street Dance on Main Street.
Tuesday, August 3, 6:00 P.M. Until Winner, Corn Hole Tournament sponsored by Oakford Pool Hall has changed the location to the Chamber/CVB Parking Lot across from Helios Park..
Wednesday, August 4, 6:00 P.M. "Wings of Wonder" will be presented by the Three Rivers Avian Center - FREE - in front the Richwood Library Meeting Room. (It was accidentally left off the brochure.)
Thursday, August 5, will be a FREE RIDE NIGHT. The first 100 wrist bands are sponsored by Camden Family Health. Next 50 sponsored by Craig's Auto & Amber and Jackie Lewis.
Thursday, August 5, 7:00 P.M. the Exquisite Twirler & Dance group will perform in front of the City Hall Stage.
Thursday, August 5, 7:00 - 9:00 P.M., the Richwood Fire Department will have a Rope Rescue at the Parking Lot beside the FireStation.
Friday, August 6, at 2:00 P.M., Alan Barker will be the Guest Speaker at the "100 Years of Memories" Reception at City Hall.
Saturday, August 7, Greg James will be the Grand Parade Marshall of the 2021 Cherry River Festival Grand Parade.
Saturday, August 7, 4:00 to 6:00 P.M. Craig Nicholas will be singing on the City Hall Stage.
FREE FLU CLINIC - Walgreens wiill be having a free Flu Clinic on Saturday, August 7, from 10 A.M. until 2:00 P.M. on the sidewalk in front of Walgreens in the Cherry River Plaza. Get your flu shot before the Covid booster shot comes out! Ages 12 - 17 bring a prescription from the doctor or have the doctor fax it in before August 7th to have on hand for the date. Fax 304-846-4517. Questions? Call 304-846-2406.